Description
For Data back up, HDD duplication,

CR-H236
Works flawlessly with HGST 10 TB HDD


(USB 3.0 Dual Bay External Hard Drive Dock)

The CineRAID CR-H232 enables two SATA 2.5" or 3.5" HDD or SSD to be connected simultaneously to a computer through USB. Large capacity drives (tested with up to 10 TB 3.5" and 1TB 2.5" drives per bay) can be used to greatly enhance your computer's storage/backup capabilities. The one button clone function allows you to backup all of your data from one drive to the 2nd without connecting to a computer.

Overview


Convenience-The CR-H236 Dual 2.5"/ 3.5" SATA hard drive docking station lets you dock and swap drives from your desktop or laptop computer simultaneously.
Improved performance- Improved with UASP (USB Attached SCSI Protocol), this hard drive docking station lets you get the most out of the fastest drive technologies such as SATA Revision 3.0 (Up to 6 Gb/s), solid state drives (SSD) and hybrid drives with performance up to 70% read-speed and 40% write-speed faster than conventional USB 3.0 when paired with a UASP-enabled host controller.
Time saving- The hard drive dock features independent power buttons for each individual drive, ensuring you can operate each drive separately. This gives you the freedom to hot-swap one drive while transferring data to another.
With support for large capacity SATA Revision 1.0/2.0/3.0 2.5in or 3.5in drives (tested up to 6TB), this HDD/ SSD docking station is compatible with virtually any SATA drive and greatly increases the storage/ backup capabilities of your computer.
Advantages


Standalone One-Touch Clone Button for effortless drive duplication

Up to 10TB HDD capacity in each slot.

Save time with file transfers up to 70% faster than traditional USB 3.0 when used with a UASP-supported host.

Reduced CPU overhead- When USB 3.0/ UASP was applied, an 80% reduction in required host computer processor resources was shown.

Designed for 2.5" or 3.5" SATA Revision 1.0, 2.0 or 3.0 HDD or SSD drives

Hassle-free access to drive data, with SATA Revision 3.0 built-in, hot-swappable top slot-loading dock design that supports both 2.5in and 3.5in HDD/SSDs.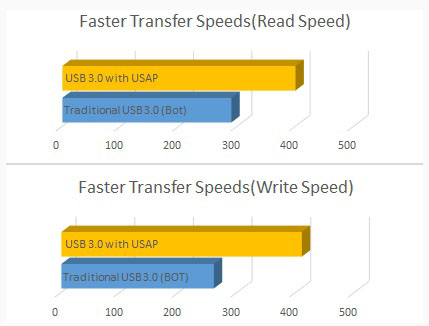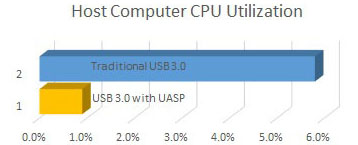 Compatible with:





To ensure compatibility with your computer system, the CR-H126 supports all of the leading operating systems, including: Microsoft Windows® (8/7/Vista/XP/Server 2008/Server 2003), Apple® OSX (10.9/10.8/10.7/10.6), Linux, and Google Chrome OS™.
UASP is supported in Windows 8, Mac OSX (10.8 or above), and Linux.
Applications
Expand your storage in an easy way.

Quick access to drives for data recovery.

One button HDD/ SSD Clone function.

Transferring data from one hard drive to another.

Backup valuable data and quickly take the drive to an offsite location for safekeeping.

Share video, photo, music, and data files from this CR-H236 dock.
Features


SATA Revision 3.0 hardware architecture.

Supports SATA Revision 3.0 (Up to 6Gb/s) and UASP (Rev. 1.0) for optimal performance.

Independent power buttons for each hard drive.

Hot-swappable and compatible with SATA Revision 1.0/2.0/3.0 drives (Up to 1.5/3.0/6/0 Gb/s).

Standalone One Touch Clone Button for effortless drive duplication

Single or Dual Drive USB 3.0 docking station for easy data access or drive backups

Plug and Play- Compatible with USB 3.0/2.0/1.1 (Up to 5 Gb/s/ 480 Mb/s/ 1.6 Mb/s)

Supports both for 2.5" or 3.5" SATA Revision 1.0/2.0/3.0 HDD or SSD drives

Supports up to 10 TB capacity drives on each drive bay

Works in Windows and Mac OS X environments

Dual bay, top slot-loading design.

Software RAID Compatible
Specifications
Host interface- USB 3.0 (Backwards compatible with USB 2.0/1.1/1.0)

HDD/ SSD Interface- SATA Revision 3.0 (Backwards compatible with SATA Revision 2.0/1.0)

HDD/ SSD support- Single or Dual 2.5"/ 3.5" HDD or SSD.

Capacity- Up to 10 TB in each slot.

Dimensions- 10.5cm (L) x 11.75cm (W) x 7.65cm (H).

Weight- 14oz.

RAID function- N/A.

OS support- MS Windows, Mac, Linux.

Power- AC Power
Package Contents
CR-H236 Base Unit

Power Cable

User Manual

USB 3.0 Cable
The CR-H236 is backed by a one-year warranty and free lifetime technical support.